AirHD 110 Pro
Backpack with an AirHD 110 Pro device allows you to broadcast FullHD video live using cellular networks (3G/4G LTE) Video is transmitting to your company's server, CDN or online stream channels (ustream, youtube)
Use of multiple modems (3G/4G LTE)
Work with different cellular networks simultaneously (Multi-Mobile)
The technology of uninterrupted broadcasting (Adaptive Bitrate)
Hot swapping of batteries without stopping broadcasting (Hot-Swap)
GPS / GLONASS tracking of video operator location (OpLocator)
Unique antenna unit, enhancing the broadcasting quality
Use as a Wi-Fi access point (optional feature)
Our own development center allows us to customize the equipment under customer specifications:
Additional broadcast channels (3G/4G LTE, Wi-Fi, CDMA, etc.).
Different connection interfaces (HDMI, SDI, USB, component, etc.)
Increase the capacity and number of batteries
External or built-in antennas
Hardware and software encryption
Product:

AirHD 110 Pro

AirHD 110 Web

AirHD 110 *Options

Components

6x modems

4x modems

8/10x USB modems

 

System unit, antenna unit with internal modems, battery, backpack carrier, *touchpad

Video resolutions

1920×1080p@30/25/24fps, 1920×1080i@60/50fps, 1280×720p@60/50fps, 720×480p@60fps, 720×480i@60fps, 720×576i@50fps, *1920×1080p@60/50fps

Video encoding

H.264 AVC high profile

Audio encoding

AAC. (*CELP, GSM)

Video transfer

Your server, CDN, stream channels (Ustream, Youtube)

Recording

On SSD

On SSD

*HDD, SDHC

Interfaces

SDI or HDMI

USB

*HDMI, SDI, USB, Composite, Component, S-Video, etc.

Networks

6x modems 3G/4G LTE, WiFi

4x modems 3G/4G LTE, WiFi

*up to 10x modems 3G/4G LTE, WiFi, Ethernet, GPRS/Glonass, WiMax, BGAN

Telecom standards

3G UMTS, 4G LTE, Wi-Fi 802.11

3G UMTS, 4G LTE, Wi-Fi 802.11

*3G UMTS, CDMA, 4G LTE, HSPA+, HSUPA, HSDPA, EVDO, WiMax, Wi-Fi 802.11

Power

1x battery (up to 4 hours of video),
2x battery (up to 8 hours of video),
wire power supply

1x battery
(up to 4 hours of video)

up to 3 batteries (10+ hours of video)

User interface

Touchpad control, remote control via Internet

Touchpad control

*SIP tel

Antenna

External antenna unit with improved receiving quality

Extra technologies

Work simultaneously with different cellular networks (Multi-Mobile)

The technology of uninterrupted broadcasting (Adaptive Bitrate)

Hot swapping of batteries without stopping broadcasting (Hot-Swap)

Automatic error correction system (Clear Stream)

Setting of video streaming delay time from 3 seconds (On Time)

*GPS / GLONASS tracking of video operator location (OpLocator)

*Use as a Wi-Fi access point

*Hardware and software encryption

Dimensions

System unit: 22 x 14 x 7 cm;
The total weight of a backpack, antennas and battery: 3.2 kg.

*Options

*An asterisk denotes options which are not included in the standard complete set, but available in individual assembly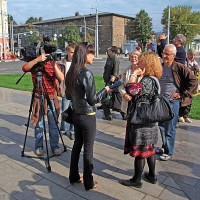 1. Live TV
More recently, to transmit HD video from the streets to live, you were needed a minivan with access to the satellite network and serviced by several people.
For now, all you need is to connect your camcorder to AirHD 110 backpack. One operator can take live reports using a cellular network.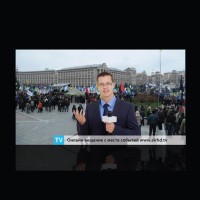 2. Internet media and online video
Speed and interactivity of online coverage of events is crucial for Internet media and blogs.
Mobile backpack AirHD 110 and web-camera allows you to broadcast online video from the center of events and to instantly respond to the interests of your audience.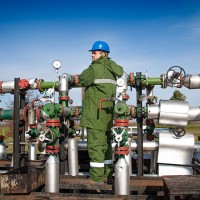 3. Remote control in enterprises
Ease of use of AirHD 110 allows to remotely control different industrial workflows in locations where there is no wired internet.
You can supervise your technicians or conduct video conferences on diversified objects while staying in your headquarter office.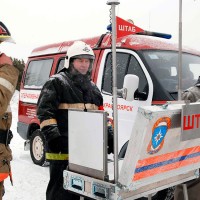 4. Interaction in emergency situations
Mobile video surveillance in real-time simplifies interaction of control centers with operational staff in the field of extreme events.
Video transmission from the events on screens of medical, security or emergency organizations can be invaluable for decision-making in critical situations.
Our Clients:
McDonald's Russia
M.Video
Examples of broadcasts:
| | |
| --- | --- |
| | Live video broadcast of concerts and entertainments (start from 02.47.00) |

| | |
| --- | --- |
| | Video broadcasts of sport events |

| | |
| --- | --- |
| | Live video tours to enterprises |

| | |
| --- | --- |
| | Corporate events live (start from 12 min) |

| | |
| --- | --- |
| | Lectures and seminars with online video broadcast |

| | |
| --- | --- |
| | Online Video bridges with industrial sites |