AirHD 110 Pro
The backpack with AirHD 110 Pro is connected to the camera and allows to broadcast FullHD video online, via 3G/4G (LTE) networks.
As the first developers of such systems in Russia, we take into account the specifics of Russian telecom operators.
Depending on the configuration: the presence of hot-swop, tablet, number of batteries. Call or write us on airhdlive@gmail.com
CONTACT US BY airhdlive@gmail.com
General information

What can the AirHD 110 Pro equipment do:
Transmit FullHD video from the camera to live broadcast from any place where there is 3G / 4G network
Seamlessly transfer video online on the move and out of the car
Record video and transfer later to the server
System Features
Independent server - content comes directly to you
The system takes into account the specifics of Russian telecom operators
Works simultaneously with different cellular networks (multi-mobile)
3G is also possible in 4G LTE networks simultaneously
Automatic change of bitrate (adaptive bitrate)
Replacement of batteries ""on the move"" (hot-swap)
Independent communication with the operator
Recording video with delayed transmission
Unique antenna units that improve reception in difficult conditions
Principle of operation
The camera connects to the AirHD equipment via an SDI or HDMI cable

Video from the camera goes to the AirHD encoder, where it is converted and transmitted via 6 modems over 3G/4G networks to the Internet

Video is delivered to your server, from where it can be broadcasted or recorded. The delay time to the air is about 5 seconds

Configuration

The сonfiguration also includes:
Cable for SDI interface

Backpack for mobile work

Hardware management software (client) and server
Control
The package includes software for managing the equipment (client) and server software.
Control software (client) can be installed on any mobile phone or tablet.With it, the system is in operation during shooting.
The client allows you to change the following parameters:
Selecting the source and resolution of the video

Bitrate broadcast and recording

Choice of modem mode 3G - 4G LTE

Record for deferred transmission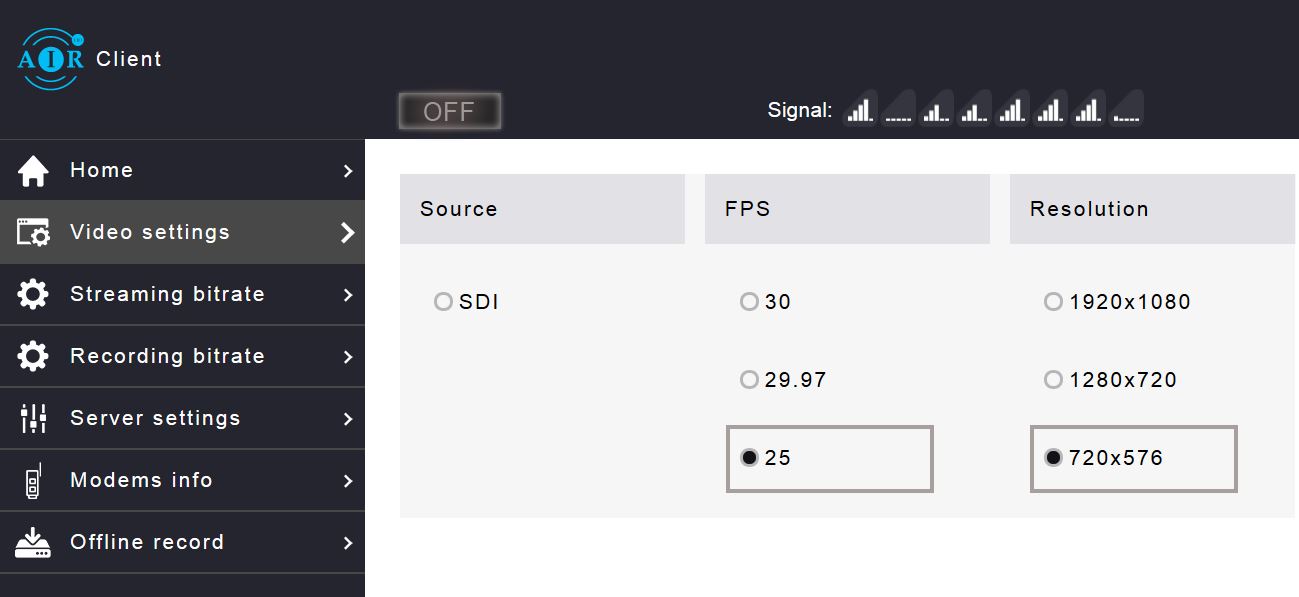 The server software we help to install and configure on your equipment.With the help of the server you select the basic settings of the system and carry out remote control of the broadcast at the place of reception and output of the signal in the air (operator) .The server is completely independent, you have access to it and transmitted and stored content Only you.
The requirement for installing server software: Win 8-10 OS, processor is not lower than i7, RAM is 6 GB.
The server allows:
Watch the video you're watching

Select video output devices

Set the delay time

Manage and broadcast a pending record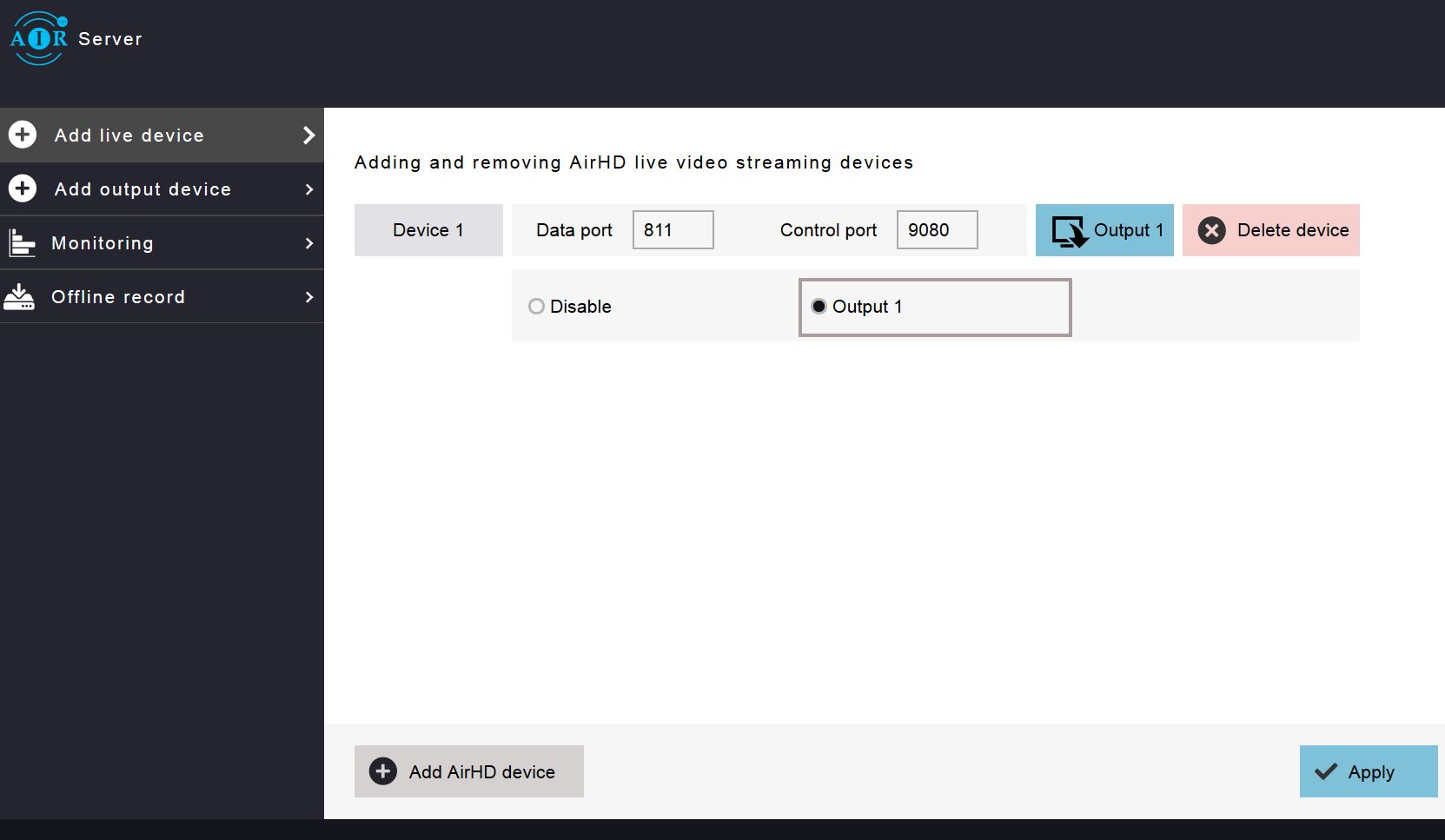 We will be happy to clarify the configuration and cost you need. Call or leave a request by clicking on the button
| | |
| --- | --- |
| Product: | AirHD 110 Pro |
| Configuration | 6 modems, system unit, antenna unit with modems, battery, backpack for carrying, *tablet |
| Video resolution | 1920×1080p@30/25/24fps, 1920×1080i@60/50fps, 1280×720p@60/50fps, 720×480p@60fps, 720×480i@60fps, 720×576i@50fps, *1920×1080p@60/50fps |
| Video codec | H.264 AVC high profile |
| Audio codec | AAC. |
| Video sharing | To your server, CDN, Internet channels (Ustream, Youtube) |
| Video recording | To SSD |
| Interfaces | SDI or HDMI |
| Communication modules | 6 modems 3G/4G LTE, WiFi |
| Communication standards | 3G UMTS, 4G LTE, Wi-Fi 802.11 |
| Power supply | 1 battery (up to 4 hours of video), 2 batteries (up to 8 hours of video), mains operation |
| Control | Tablet control, remote control via the Internet |
| Antenna | External antenna units, increased reception quality |
| Additional technologies | Working simultaneously with different cellular networks (Multi-Mobile) |
| | The technology of continuous broadcasting and changing the bitrate (Adaptive Bitrate) |
| | Replacement of accumulators ""on the move"" (Hot-Swap) |
| | The system of automatic correction of video errors (Clear Stream) |
| | Setting the delay time of streaming video from 3 seconds (On Time) |
| | *GPS / Glonass tracking of the location of the video operator on the map (OpLocator) |
| | *Use as a Wi-Fi hotspot |
| | *Hardware and software encryption |
| Dimensions | System unit: 22x14x7 cm, weight: 2.3 kg. Total weight with backpack, antennas and battery: 3.2 kg. |
| *Options | *The asterisk indicates options that are not included in the standard configuration, but are available in the individual assembly |
1. TV broadcasting on the air
Until recently, to transfer high-quality video from the streets in a live broadcast, a minibus was needed that was connected to an expensive satellite network and served by several people. Today, you only need to connect the AirHD 110 to the camcorder and one operator can record live broadcasts using regular cellular tariff plans 3G / 4G LTE networks. Eliminating the cumbersome hardware, long connectivity, complex maintenance, our technology opens up entirely new dimensions of mobility and ease of broadcasting.
2. Online media and online video
In the modern world, the speed of response, interactivity and the possibility of online coverage of events form the success and relevance of online media and news blogs. Mobile equipment AirHD 110 will allow you to broadcast online video from the thick of events for your audience, instantly responding to its interests. Using local sim cards or roaming In other countries, you can shoot international stories, transporting equipment in the usual baggage. For shooting, it's enough to connect to an AirHD 110 regular webcam.
3. Use in enterprises for remote control
Easy to use AirHD 110 allows you to perform operational audio and visual monitoring of work at remote sites of industrial enterprises. Specialists or management can stay at their workplaces, sending less skilled personnel to the fields and performing remote management of several objects at once. Field conditions and the ability to deploy broadband Internet will allow to always stay connected in companies with high territorial diversification. The lighting of business events and corporate events online, which employees of interurban branches will be able to monitor, will increase their ownership and will allow them to feel themselves as part of one company.
4.Interaction in emergency situations
Mobile video surveillance in real time opens up an entirely new level of coordination and interaction of control centers with operational staff in the field of emergency events. Law enforcement agencies and national security agencies, firefighting, transport security and emergency medical services often require immediate response measures in difficult situations. Mobile video transmission system AirHD 110 from the scene directly to the screens of medical organizations, public safety centers, transport management or the Ministry of Emergency Situations can be invaluable for making decisions in critical situations. GPS / Glonass tracking of the location of the operator allows you to monitor the movements on the map.
AirHD is based in Moscow and has been developing streaming video broadcasting technologies over wireless networks since 2012. We are the only Russian manufacturers of such equipment.Our equipment uses its own video transmission technologies for 6 modems simultaneously.
The equipment is designed specifically for Russian cellular networks, while allowing you to work with several cellular operators at once, using unique algorithms for uninterrupted broadcasting, adaptive bit-rate and error correction.
When transferring video, software that is installed on the user's server is used, so confidentiality is under your complete control.
We have been successfully using the systems created by us for the past 5 years, participating in exhibitions (CSTB, NATEXPO, ITVF) and winning in technological competitions:
Russian tech in Tokyo Game Show 2012
Start Fellows (Yuri Milner and Pavel Durov)
100 Innovators, the Open Innovation Forum
Live Mobile Congress in the IMI.VC Fund Contest
Among our clients:
McDonalds, M.Video, Pfizer, Nobu, M1, TNT, CTB, Moscow Museum of Modern Art, Moscomsport, Russian Cycling Federation, Russian Surfing Federation, Knight Frank and many other companies.
The quality of our equipment is confirmed by the largest Russian TV companies (VGTRK, STS, ORT, Zvezda, Life) and is used in the park of TV companies (National TV and Radio Company Ingushetia, Max Media, etc.).
Our live webcasts on the site: live.airhd.tv
For whom we did the broadcasts:
McDonald's Russia
M.Video's Chain
Our possibilities:
We carry out video broadcasts both from premises and from streets, from stationary or moving cameras. Video can be streamed to the Internet by means of youtube, your website or a demo monitor/projector. If you have your cameras, we can transfer video from them, or provide professional operators, with all the necessary equipment.
Broadcasts options:
| | |
| --- | --- |
| | Concerts, mass events, Online video broadcasts (from 02.47.00) |

| | |
| --- | --- |
| | Sports events, Live competitions broadcasts |

| | |
| --- | --- |
| | Online video tours about enterprises |

| | |
| --- | --- |
| | Coverage of live corporate events (start from the 12th minute) |

| | |
| --- | --- |
| | Lectures and seminars with the translation of video to the Internet |

| | |
| --- | --- |
| | Online video bridges from work sites, at industrial sites |
Cost
Basic version (1 camera broadcasting via Youtube Live for 5 hours): 15 thousand rubles. Additional options:
Multi сameras broadcasting
Professional operators
Professional TV cameras
Directing video and audio mixing
Shooting from moving cars
Broadcasting simultaneously in the Internet and on street monitors
Broadcasting from multiple locations
Call us and we will arrange the broadcasting of your events online!
FAQ
1. What is the warranty for the AirHD 110 Pro equipment?
- Warranty: within 12 months - correction of technical failures at work, at the address of sale (Moscow).
- Support: within 1 month after the purchase of equipment: configuration and full remote support is included in the cost, the equipment can be returned or replaced. From 2 months the cost of full support - 5 thousand rubles. per month.
2. Is it possible to buy the assembled AirHD server?
Yes we can supply the assembled server. Typical configurations:
- AirHD 110 Tower: Win 10, Intel Core i7 4790, 3600 MHz, 8192 MB, 1000 GB, Intel HD Graphics 4600 1024 MB, DVD-RW, 1000 Mbps, Blackmagic DeckLink Mini Monitor
- AirHD 110 Unit: Win10, Intel Core i7 4790, 3600 MHz, 8192 MB, 1000 GB, Intel HD Graphics 4600, DVD-RW, 1000 Mbps, Blackmagic DeckLink Mini Monitor
3. Which SDI output card is recommended for the server?
The Blackmagic DeckLink Mini Monitor card contains SDI and HDMI outputs.
4. What type of batteries can be used with your equipment?
- We can set the platform for any typical battery for the camera, according to which battery park you are already using.
- Beillen BL-BP190 or BL-F-BP190 batteries are supplied as standard.
5. Is it possible to record as files (in which format) on the receiving server?
- Yes, the stream of H.264, format .ts
6. Is the battery charged when AirHD is connected to the network?
- No, batteries are charged only on a separate base. If necessary, a charger can be included in the configuration.
7. Is there a priority for switching on and off and - server, mobile unit.
- Yes, first of all a server is switched on
8. Are there any limitations on the capacity and types of SSD hard drives?
- We can supply any type of 2.5"", SATA III. The price will vary, depending on the amount of capacity.
9. How many audio channels can be attached to SDI?
- Only 2.
10. What type of connector is used to connect the headset?
- 2 Mini Jack connectors for microphone and headphones, as for PC
11. Is it possible to transmit multi-format signals: SD SDI 4:3 SD SDI 16:9 HD SDI 16:9
- Our system sees the streams when switching the input signal format. The video capture card allows you to receive data in these formats.
12. Is it possible to use AirHD 110 Pro to broadcast previously recorded content to the hard disk when there is no video input signal?
- Yes, there is a possibility of transmitting the deferred recording to the server and the following broadcast via the server to on the air.
13. Is it possible to make a remote antenna block on the roof of the car for stationary installation?
- There is such an opportunity. Please, ask for a cost.
14. Do I need to buy a spare modem (how much will it cost?)?
- A spare modem with an extended antenna unit costs 9.5 thousand rubles.
15. Is it possible to have a hot restart or turning off any modem (sim card) during the broadcast or it is required to stop the whole system?
- The system allows you to disconnect the modem and change the sim card in a hot mode.
16. Can the system be used to transmit Internet simultaneously by wi-fi and 3G/4G?
- Yes, it can be.
17. Is this device suitable for transmitting multicast broadcasts from TCP?
The equipment can be connected to a video mixer via the HD-SDI interface and broadcast taken from several cameras stream.
18. Video is transmitted directly to the Internet, for example, to the CDN-network and for ""collecting"" the multistream isn't necessary to have an intermediate server?
The video is removed from the camera and the mixer, it is transmitted via the cellular network to the Internet, from where it comes to the server. From the server it can be output either to HD-SDI or to CDN, or to other output systems in RTMP format.